Ar šo vēlos paziņot, ka sadarbība ar Fanatic dēļu ražotāju ir noslēgusies un esmu pievienojies Polijā ražotu dēļu kompānijai PULS Boards, vairāk par dēļiem: https://www.pulsboards.com
Welcome to the PULS Boards Team!
Ražotnes vadītājs, šeiperis un dizaineris ir Stefan Leciejewski. Pašiem ir sava līnija ar trīs dažādiem viļņu dēļu modeļiem kā arī frīstaila dēli. Principā "custom" dēļu ražotne ar visām pozitivājām izrietošajām sekām. Kvalitatīvs produkts par zemāku cenu kā lielo ražotāju produkcijas dēļiem. Cenas atkarībā no izvēlētās versijas 1270 – 1670€.
Līdz šim biju ļoti apmierināts ar sajūtām kuras man sniedz Fanatic dēļi, bet diemžēl izturība manam braukšanas līmenim neatbilda un ik gadu kāds dēlis tika salauzts. Tāpēc uzgāju vienreizēju risinājumu, līdzīgs "šeips" maniem līdzšinējiem dēļiem, bet daudz lielāka izturība un augstāks kvalitātes standarts.
Manā rīcībā ir divi viļņu dēļi ar swallow tail, ap 82 un 90l. Mazākajam dēļim ir piecu spuru opcija un sver 6.3kg, lielākajam dēlim ir "thruster setups" un sver 6.1kg. "Slotbox" spuru kastes ir printētas uz 3D printera, aizmugurējai visdējai ir četras skrūves, augstākai noturībai.
Izvēlējos pašu izturīgāko versiju, teksts angļu valodā: Platinum – HARDCORE WAVE construction. Biax-carbon layers from the tail to the mast box and full Dyneema bottom and deck makes your board high jumping, hard landing and rocks-crusher machine. In the most loaded areas you can find double and triple carbon sandwich. Warranty: Production: 2 years; Breakage: 2 years.
Tāpat arī masta pēdas kaste ir speciāli izgatavota īstāka, lai ieekonomētu svaru. Šeit ir meklēti kompromisi starp izturību un vieglumu. Jo ir vietas kur izturība spēlē lielāku lomu kā svars un otrādi. Visas kājsaites ir stiprinātas ar divām skrūvēm, kas novērš kājsaišu grozīšanās problēmu.
Dizainam krāsas ir ņemtas no manu jauno Hot Sails Maui buru krāsu toņiem. Katrs dēlis ir sadalīts trīs daļās. Dēļi ir maksimāli krāsaini, lai Latvijas drūmajos apstākļos būtu pamanāmi. Stefans veiksmīgi izstrādāja dizainu man vēlamajā izskatā ļoti ātri un precīzi.
Vēlos padalīties ar manu vindsērfinga dēļu izgatavošanas procesu, komentāri angļu valodā (apraksts zem katras bildes):
Styrofoam deck after first shaping.
Slotboxes before put in.

Slotboxes during set in.

Deck during sandwiching.  I add blue tint in resin to see where exactly it is.  There in no way for delamination !!!

Deck sandwich layer PVC foam 90 kg/m3

Sandwiching.  I put a lot of biaxal Carbon under sandwich!!!

Sandwiching. Board is in Vacuum bag  for 24h.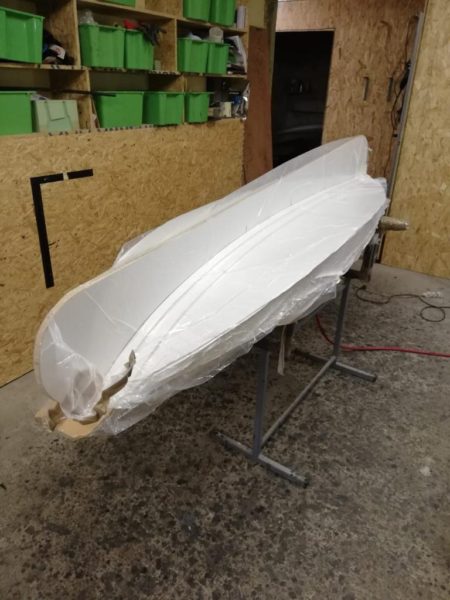 Bottom sandwiching. Board is in vacuum bag with Rocker template.

Resin on bottom sandwich layer. 4,5 mm PVC 80 kg/m3.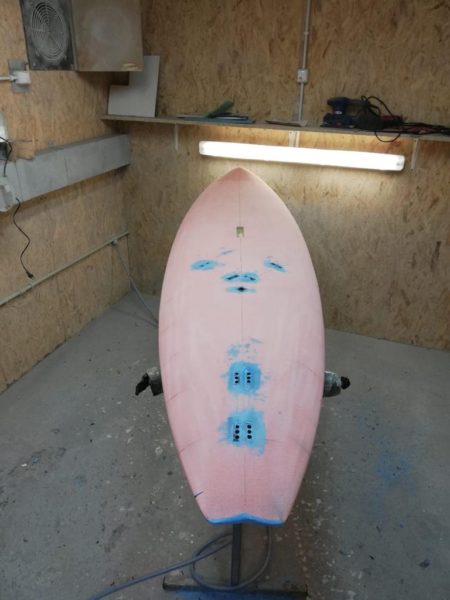 Board after sandwiching and footstrap inserts set in.

After deck lamination – Full Dyneema layers + 70 % Biaxa Carbon Layer + carbon-kevlar on the tail and on the nose.

After bottom lamination – Full Dyneema layers + 60 % Biaxa Carbon + pressed UD carbon  + carbon-kevlar on the tail and on the nose.



Finishing. We use only epoxy fillers. All finish layer is super light. Only 150 g per board.



Masking for painting.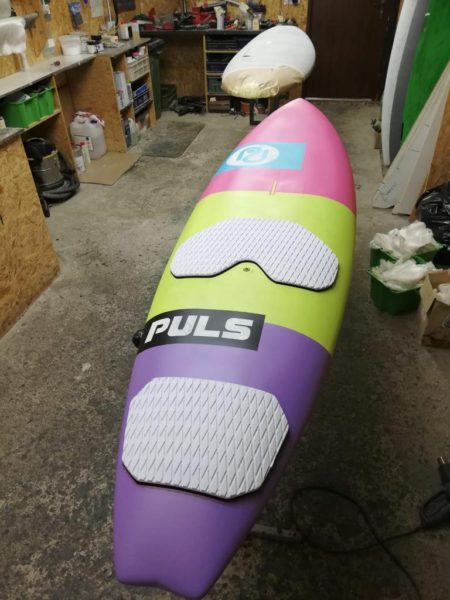 After painting and pads glueing. Last steps in non-skid and holes drilling in pads and that's it :)
Visi komentāri par būvniecības procesu no Stefana.